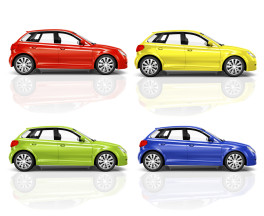 My 16 year old daughter, Riley, has been playing a game every time she is in the car since she was a little girl. The game couldn't be easier: when you see a yellow car the first person to say "yellow car" wins. It's become so ingrained in Rittler car life that I catch myself occasionally yelling "yellow car" when I am alone. I was with my dad the other day and he did the same thing. Riley wasn't even in the car.
Here is what I find interesting: Riley can be doing ANYTHING else and can shift on a dime to say "yellow car." She can be singing along with music, fighting with her brother, or crying over something she is upset about and she will shift instantly to "yellow car." It's become humorous at times and we joke about how she can be in the emotional depths and see a yellow car and the emotional drama will be put on hold long enough for her to say "yellow car."
Have you ever noticed that you could be in a dramatic fight with your spouse but if the phone rings you can muster up a sweet "hello?"
We train ourselves to shift our attention in a second. We just don't often do it intentionally.
We can't control the thoughts that pop into our minds. But we can train ourselves to focus our attention and change our response.
Dallas Willard, a philosophy professor and spiritual guide put it this way:
The ultimate freedom that we have as human beings is the power to select what we we will allow or require our minds to dwell on.
What will you allow or require your mind to dwell on?
/*?>*/?>