You Become Who You Follow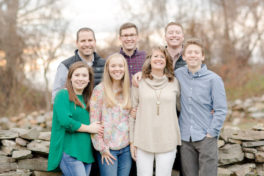 This week I listened to an interview of David Brooks, author and NY Times columnist. In the interview, they were discussing his TED talk, "Should you live for your resume or your eulogy?"
One thing Brooks said struck me as I listened:
That every week you have a regular set of people you meet with where the dominant mode is not ideas and intellect, it's emotion. I've come to not believe that character is built internally through an inner drama with self though that's part of it. It's built externally by making commitments to things: to a spouse or family, to a philosophy or faith, to a community, and to a vocation. And how well we choose those things and execute those things determines the fulfillment of our lives.
That reminded me of one of the things Greg has taught each of us and our kids.
Every Friday morning for the past 13 school years, Greg has taken the kid in our house who is in middle school out to breakfast. They show up at the Towson Diner at about 7:20, eat breakfast together, and Greg spends a little time intentionally imparting wisdom to them. Then it is off to school.
I honestly don't know all that they talk about. They read some scripture. They talk about life. But I do know there are some core teachings along the way. One of them is the very first lesson: "You become who you follow." I know they talk about that a lot.
I love this because it has challenged our kids to think about who they want to become, and also has given them the responsibility to choose wisely who they will spend time with. It isn't a one time lesson. It's a way of life. So it is the first fundamental principle.
I have seen the impact of this principle with each one of our kids. Our son, Josh, visited his older brother at college when he was a sophomore. After seeing the quality of Caleb's friendships at school, Josh came home determined to create that in his life here. Over the next years of high school, we watched Josh and his friends share life together intentionally in a way that has moved all of them toward becoming the kind of people they want to be.
We have seen our other kids make similar kinds of choices. It's a simple phrase, but powerful. And I've seen the reality of it in my life, and Greg's as well.
On Father's Day, I am grateful for Greg's faithfulness and perseverance in leading and fathering our kids. The principle is true in marriage as well when spouses choose to "co-lead" and "co-follow" each other as they mature. Each of us challenges the other, and we become more and more of the people we want to be.
Happy Father's Day!
/*?>*/?>